#2
My plan is now on process!
I put a draft for my new plan here. This is going to be a web cinema(drama).
Like a TV drama, you take about 3-6 months to see the whole story. You put a book mark when you finish seeing the one episode and you can see the next episode by accessing that book mark when the update is taken place.
Since it is a web drama, it is interactive. It means you have different stories by choosing a command among some selections.
The images must be standstill picture because of web environment we have. You can access to the standstill pics much easier than movies. I'm gonna use some shockwave flash though.
Use of music and sound effects are very important for you to see drama. I'll order some music and effects to a brilliant sound creator whom I know so you can see my web drama as if you see a film in a theater.
The story is going to be;
It is the story that the era is unknown. Only we know is that is in the near future. A man, who is traveling alone in the desert where is used be Tokyo ago, meets a girl who is a prostitute in a brothel. That is the beginning of his great sorrowful adventure...
Here is a sample picture that shows how the web drama is gonna be look like.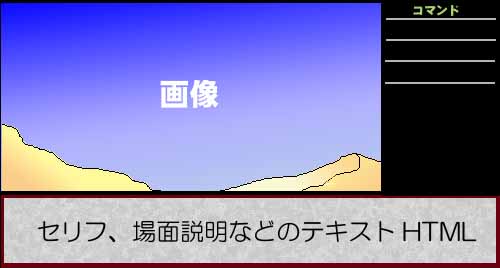 ---
<< To Previous
<<To HOME>>
To Next >>