JOHN
Stop it!
Suddenly, JOHN's yelling comes from behind the village people and all of them turn around.
JOHN
God forbids men to kill the living things.
OLDEST MAN
Don't bother us, John. We have our own rules to keep.
JOHN
No. You promised me that you follow God's basic rules.
OLDEST MAN
...
All people there become silent. NER gets nervous and is watching the situation. JOSTER comes in front of NER and starts taking her rope off.
OLDEST MAN
Who are you!?
JOHN
Oh, he is my fellow.
OLDEST MAN
OK, I follow you this time. But it is quite important for us to
keep our rules. If we don't, the village is collapsed. Those
women did it and you know what happened. A war makes
nothing but gives us a sadness. The rules we have are same as
your religious belief.
JOSTER
But it can't be the reason that you dominate women!
JOSTER shouts at the OLDEST MAN, and NER stops him.
NER
Joster, it's enough. We lost. So it is natural that we obey them.
This is the rule that a fugitive is executed.
OLDEST MAN
I said I stop this execution. Instead, you have to go to the jail
for a while. We take care your son.
NER
Master...
OLDEST MAN
Are you satisfied, John?
JOHN
Yes.
OLDEST MAN
I have to say thank you for your helping wounded soldier
here, but I can't ignore the rules we have any more. We
decide what we do from now, so please leave this village soon.
JOHN
I don't mind but..."
JOHN looks at JOSTER. JOSTER is staring at NER closely. NER looks back JOSTER sadly and nods.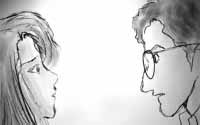 JOSTER
You save her, right?
OLDEST MAN
Yes. We'll put her in a jail, that's all.
JOSTER
All right. (to NER) That's the best way to save you...
JOSTER looks at NER. NER makes her face close to JOSTER and kisses him.
NER
I never forget you.
JOSTER holds NER tight for a while, and then stands up and walks away from her.
JOHN
Joster, are you all right?
JOSTER
Let's go, John. We should have had the reason to come
to this jungle.
JOHN
...you're right.
JOSTER and JOHN start walking. NER is untied and stares at JOSTER leaving the village. JOSTER never turns around.
EXT - SHORE AT A RIVER - EVENING
JOSTER and JOHN are sitting on the edge of the ground. They look tired.
JOHN
You are hungry?
JOSTER
Yeah...but we have nothing to eat.
JOHN
Joster.
JOSTER
What?
JOHN
Try this.
JOHN gives a fruit to JOSTER.
JOSTER
...it's yours, right?
JOHN
I got to save you as a priest. And I trained how to survive in
this situation in the S.A.S. in Great Bulletin. And also, you must
be tired.
JOSTER
John...
Tears come off JOSTER's eyes.
JOSTER
Thank you...
JOSTER bites the fruit while he is crying.
EXT - LAKE SHORE - DAY
JOSTER and JOHN are playing by splashing water each other at the shore of the lake. They make a distance and stare at each other.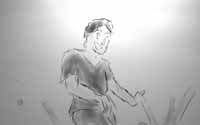 JOSTER
JOHN!!
JOHN
JOSTER!!
They are running toward and hold each other. The sun is shinning above them...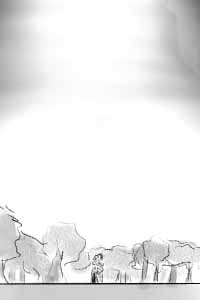 TO BE CONTINUED!!!
---