EXT - A FALL - DAY
JOSTER is climbing the cliff with a great fall. On the way, he drops off his foot and a rock falls down to the ground. JOSTER looks scared and then looks up to the top of the fall, and starts climbing again. JOHN, a little behind JOSTER, sticks to the cliff hard and doesn't move. JOSTER looks at JOHN.
JOSTER
Hey, John! Don't be a chicken!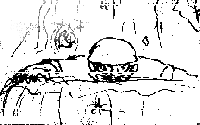 Just climb up!
JOHN
Joster, go! Don't care of me!
JOHN looks dead.
JOSTER
You, son of a bitch! You're a clergyman, aren't
you? You can't throw your life away!
JOHN stares at JOSTER without any words.
JOSTER
John, just do it! I know you can do that!
JOHN starts climbing again. JOSTER sighs and starts climbing.
INT - IN A CAVE - DAY
JOSTER and JOHN sit in front of each other and are taking a rest.
JOHN
Thanks, Joster. I was about dying.
JOSTER
Be a man, John. You must be tough. The things
are gonna be harder from now on.
JOHN
Absolutely.
JOSTER and JOHN smile each other.
JOHN
Where are we, now?
JOSTER
Here is just an entrance. You know, we've
seen few animals, yet.
JOHN
Oh.
JOHN disappoints a little.
EXT - OUTSIDE OF THE CAVE - DAY
Something rushes to the cave.
INT - IN THE CAVE - DAY
JOSTER takes something out of his rucksack.
JOHN
What are you doing, Joster?
JOSTER
I think we better eat something. I'm starving.
JOSTER holds a potato-chips. Next time, a wooden spear jumps from the entrance of the cave and hits the potato-chips. JOSTER and JOHN are scared and jump back.
JOHN
What's going on!?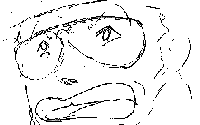 JOSTER
Oh, no!
A small guy's shadow comes into the cave. JOSTER and JOHN hold each other because of their frightening. The shadow becomes a boy who has a suntan, wearing a pants that primitives always wear.
JOSTER
Help me! Please!
JOHN
I'm just a clergyman. I am an innocent man.
JOSTER and JOHN ask the BOY to help them while crying.
BOY
◎●♂・#153;§>仝々±@%★!
BOY shouts at JOSTER while pointing to the potato-chips that is besides JOSTER.
JOSTER
What did you say?
BOY
・#165;*&・#161;◆¢$・auml!!
BOY shouts again and rushes to the potato-chips. JOSTER and JOHN are surprised. BOY picks up the potato-chips and shouts at JOSTER.
BOY
・uuml;・Aacute;Q・eth;禰・!!!
JOHN
You want it?
BOY holds the potato-chips and stares at them.
JOHN
OK. Take it. It's yours.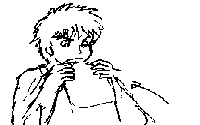 JOHN tries to communicate with gesture.
JOSTER
What the hell are you saying!? It's our food!
JOSTER goes against JOHN hard.
JOHN
Can you leave the children who are starving?
JOSTER
I AM starving. I don't care the boy!
JOSTER tries to take the potato-chips back. BOY jumps back and raises a big knife.
TO BE CONTINUED TO ACT3!!!
---