EXT - A GREAT FOREST - EVENING
JOSTER is running hard while holding a fruits punch.
JOHN is chasing JOSTER desperately. Their speed goes
beyond the sonic and they go over the bridge, the cliff and
have a dog fight. Since JOHN can't catch JOSTER, he
bumps into JOSTER. JOSTER is pushed away and leaves
the fruits punch. The fruits punch flies upon them and
starts falling down slowly. JOSTER and JOHN can do
nothing but stare at the situation. The bottle of the fruits
punch is smashed away.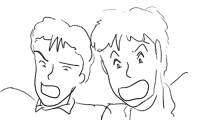 JOSTER
Gee!
JOHN
...
JOSTER and JOHN look at the smashed bottle for a while.
JOSTER
God...
JOSTER kneels. JOHN finds what they should do.
JOHN
(V.O.)
We have to do something for this.
EXT - PRIMITIVES' VILLAGE - NIGHT
The village is ruled by silence with no lights. JOSTER and
JOHN show their faces from the bush. Their faces are
colored army pattern.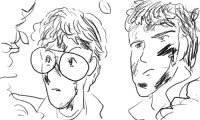 JOSTER
There seem to be no one.
JOHN
They must be sleeping.
JOSTER
But I think it is bad idea. Stealing is evil.
JOHN
You're right. God may not forgive stealing.
But it is them that take our food away.
JOSTER
I know but...
JOHN
It's time to rock n' roll!
JOSTER and JOHN start moving toward a big storage of the
village. JOHN moves as if he is an expert and hides beside
the storage. JOSTER follows JOHN.
JOSTER
You look like an expert.
JOHN
I was in the SAS when I was in the Great Britain.
JOSTER
The SAS?
JOHN
Yes. It is a special air service of the army.
JOSTER
Wow. Cool.
JOHN
Nobody there. Let's go!
They get into the storage.
After a while, the primitives' voices occur and the soldiers
jump out of the houses with the spears.
EXT - THE FOREST BESIDES THE VILLAGE - NIGHT
JOSTER and JOHN are running with their rucksack full of
fruits and vegetables. The primitives' voices come after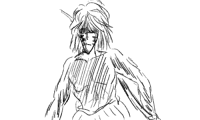 them. A SOLDIER appears besides JOSTER
and JOHN. JOHN shoots the SOLDIER's
spear by his gun. The SOLDIER is pushed
away by the gun's power. JOSTER and JOHN
start running away again.
EXT - THE WIDE SPACE IN THE FOREST - NIGHT
JOSTER and JOHN are coming from the forest and stop
in the center of the wide space with hard breath.
JOSTER
We escaped, huh?
JOHN
I guess so.
JOSTER
You're great, John. I can't believe you are
a clergy man.
JOHN smiles.
JOHN
Anyway, we got our food.
JOSTER
Yap. I hope we aren't be caught by them.
Suddenly, the SOLDIER comes out of the bush near them.
JOSTER and JOHN freeze for a moment.
TO BE CONTINUED!!!
---