EXT - A WIDE PLACE IN THE JUNGLE - NIGHT
JOSTER and JOHN are sitting around a fire.
JOSTER
I worry about her...
JOHN
Yeah. She will be punished if the others
find we have escaped.
JOSTER gets nervous. JOHN suddenly finds something and looks around.
JOSTER
What wrong?
JOHN
Did you hear something like beating drums?
JOSTER
What!?
JOSTER looks around the darkness. The small sound of the drums comes closer. JOHN puts out the fire.
JOSTER
What? What are you doing?
JOHN
They must be men from Wan village.
We'll get trouble if they find us.
JOSTER
Yeah, you're right.
JOSTER and JOHN move quietly and go close to the sound. They look at the men from a bush.
JOSTER
Gee's...
Many men with arms and bonfires are walking while they are shouting a song.
JOSTER
What are they doing?
JOHN
They may be heading for the Ar village.
JOSTER
What? It means they'll attack the village?
JOHN nods.
JOSTER
Oh my god. We have to save the village!
JOHN
No way. What can we do by only two people?
JOSTER
But...
JOHN
We gotta get out of here. We are in danger,
too.
JOHN starts running away to the darkness. JOSTER follows JOHN.
EXT - THE AR VILLAGE - MORNING
Whole of the village was burned down. JOSTER and JOHN just stand and stare at the burned village.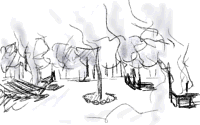 JOHN
Nothing is left...
JOSTER
God... It's too cruel.
JOSTER starts walking as if he is possessed by something. JOHN follows JOSTER. They are looking around while walking. Many burned houses around them make smokes.
JOHN
But there are no bodies here. They may
be living.
JOSTER
Ner!
JOSTER is prowling while shouting the name.
JOHN
She is not here. The men took all the
people here.
JOHN puts his hand on JOSTER's shoulder.
JOSTER
Ner! I'm here to save you!
JOSTER ignores JOHN and still looks for NER. There are no one there and a big silence rules the mood. JOSTER shows sad face.
JOHN
Come on, Joster. Let's go.
JOSTER turns around with angry face.
JOSTER
John, we gotta save her.
JOHN
It's impossible! We'll get killed!
JOSTER
We gotta do it! You were a soldier, huh?
JOHN
Yes! That's why I can say it's impossible.
JOSTER
OK, that's enough!
JOSTER yells at JOHN and runs away.
JOHN
Joster!
JOHN calls him. JOSTER never stops and runs away.
To Be Continued!
---