The Great Passenger Ships of the World/Die Grossen Passagierschiffe Der Welt
In March 2016, "The Great Passenger Ships of the World/Die Grossen Passagierschiffe Der Welt" was published in Germany.
This book follows up with the German prominent maritime historian, Arnold Kludas' "The Great Passenger Ships of the World", and has been published once every about 5 years in recent years. It is a sumptuous hardcover book which covers ferries and cruise ships of the world having 10.000gt or larger. The eighth edition is written in English, and it's become accessible for non-German speakers.
On this page, I'm introducing its "Preface" & "Important notes". Because "Preface" is a superior overview on recent passenger ship industries, meanwhile "Important notes" are also useful expository writings on basic knowledges of passenger ships, I think.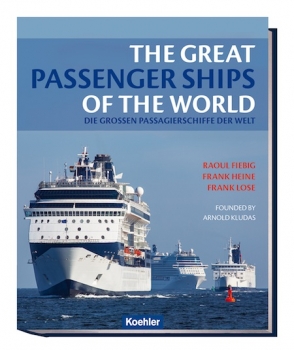 Book Jacket Back
The eighth edition of the "Kludas" guide to passenger ships is once again a highly reliable reference work an absolute must-have for fans of ships and cruises! Passenger ships from across the world are racking up superlatives at an incredible rate ever bigger, ever more spectacular, ever more luxurious and so around 80 "giants" over 10,000 GT have been added since the last edition in 2010. This edition presents 858 ships with updated histories, technical details and predominantly new photos.
A book that perfectly combines reliable information with stunning visuals!
Title Page (Page 3)
RAOUL FIEBIG, FRANK HEINE, FRANK LOSE
FOUNDED BY ARNOLD KLUDAS
THE GREAT PASSENGER SHIPS OF THE WORLD
DIE GROSSEN PASSAGIERSCHIFFE DER WELT
Illustrated register of all 858 passenger ships worldwide exceeding 10000 GRT/GT
Koehlers Verlagsgesellschaft, Hamburg
Reference, etc. (Page 4)
References
Batologen, Viken
Cruise & Ferry Info, Halmstad
Cruising Monthly, Gloucester
Designs, Halmstad
Faergefarten, Kopenhagen
Ferry & Cruise Review, Douglas
Guide, Halmstad
Lloyd's List, London
Maritime News, Kendal
Market, Halmstad
Sea Lines, Windsor
Ships Monthly, Burton-on-Trent
Steamboat Bill, East Providence
www.maritimematters.com
Yahoo! Internet E-Groups
Ferries of Northern Europe
Ferries of Southern Europe
Ferries of Outside Europe
Linerslist
Book jacket photos
Cover
CELEBRITY CONSTELLATION (left), CELEBRITY ECLIPSE (middle) and KRONPRINS FREDERIK (right) entering the German port of Warnemude. (photo: Hans-Joachim Hellmann)
Back
INDEPENDENCE OF THE SEAS and MSC DIVINA in Philipsburg, St. Maarten. (photo: Andy Hernandez)
We will gladly send a complete list of available titles.
Please send an e-mail with your address to: vertrieb@koehler-books.de
Visit us on the internet: www.koehler-books.de
Bibliographical information of the German National Library
The German National Library registers this publication in the German National Bibliography; detaild bibliographical data can be called up on the internet:http://dnb.d-nb.de
ISBN 978-3-7822-1245-8
Koehlers Verlagsgesellschaft, Hamburg
8. new edition 2015 by Koehlers,
in Maximilian Verlag GmbH & Co. KG
All rights reserved.
Authors: Raoul Fiebig | Frank Heine | Frank Lose
Assistance with translation: Christopher Watson
Production: Inge Mellenthin
Printing: DZS Grafik, Slovenia
Content (Page 5)
Vorwort/Preface .................................................................. 7
Important notes for this new edition ..................................... 9
The Ships in chronological sequence .................................... 11
Appendix 1: Cargo ferries and temporary passenger ships ... 259
Appendix 2: Former passenger ships ................................. 275
Appendix 3: Passenger ships under construction ................. 281
Appendix 4: Passenger ships withdrawn since 2010 ............ 285
Register of Ships ............................................................. 299
Preface (Pages 7-8)
Six years have passed since the last appearance of "The Great Passenger Ships of the World", and we are now delighted to prersent our revised eighth edition. As with previous editions, the lives of all the passenger ships and ferries over 10,000 GRT/GT in existence at the time of publication have been brought up to date and illustrated with the most recent photographs available. As is customary a new edition, there have also been some changes. Most notably, this edition is being printed exclusively in English for the very first time. This allows us, after all these years, to answer the numerous queries we have received from our non-German readership. Unfortunately, the current state of the publishing market has not permitted the release of a parallel German edition. Nevertheless, the lives of the individual ships have been standardized to the greatest possible extent, allowing all interested German-speaking readers who do not possess a deep knowledge of English to access the information with the help of our translated key.
We are pleased to announce that Raoul Fiebig, who gave a great deal of support with previous editions, has joined our team as an additional co-author this time around. This will allow our readers to benefit from his renowned expertise on the constantly expanding cruise ship sector. His appointment received the wholehearted support of Arnold Kludas, the founder of this publication.
As reflected in our expanded team of authors, the trend for ever-increasing numbers of cruise ships remains unchanged. At the same time, however, the number of ferries in the world continues to decline. Fewer and fewer ferries are being delivered to northen Europe, with the consequence that some vessels of this type have now been in operation for more than 20 years (particulary worthy of note is the STENA DANICA, which has been deployed on the same route since it was built in 1983 - a service life that would have been unimaginable several decades ago). In the Mediterranean, where shipping companies largely rely on second-hand tonnage, many old ferries have fallen victim to changing SOLAS regulations in recent years. In contrast to northern Europe, however, the construction boom in Japan remains undiminished. As a result, an ever-growing percentage of second-hand ferries bought in from Japan is currently operating in the Mediterranean. And although ferry shipping is still going from strength to strength in China, which can boast large numbers of newly constructed vessels, the markets in Indonesia and the Philippines continue to rely almost exclusively on second-hand Japanese tonnage. It has proved difficult to acquire usable photographic material for these latter regions, which explains the very occasional gap in our pictorial documentation.
In our preface to the previous edition, we expressed doubt as to whether the size of cruise ships would continue to increase after the OASIS OF THE SEAS, which entered service shortly before publication. So far, this forecast has proven accurate. Although the OASIS OF THE SEAS will have three sisters in total, no larger vessels have yet been planned. Nevertheless, the trend for more and more ships over 100,000 GT continues uninterrupted: 62 are currently cruising the world's oceans, and a further 31 are in the planning stage. Six years ago, we assumed that the market would become saturated at some point. Nevertherless, the order books of shipyards are being filled once more, partly thanks to shipping companies' increasing discovery of China as an important cruise market. Fundamentally, however, over 70% of all cruise ships built today are constructed by just three big shipyards (Fincantieri, Meyer/Meyer Turku and STX France) for four major shipping groups (Carnival, Royal Caribbean, NCL and MSC). Many of the newer, larger cruise ships belong to the sizeable number of standardized vessels that only differ in a handful of (more or less notable) ways to suit the company that commissioned them. Although the "rest" of the cruise ships might be considered "outsiders", they are no less interesting for it - as can be seen from the photos in this book, they display a far greater variety of design. Incidentally, of the passenger ships that appeared in the main part of this work's five-volume first edition - the last volume of which was released in the summer of 1974 -thirteen are still in service today and included in the main section of this eighth edition. Others are mentioned in the appendices.
We would like to thank the many photographers who have again contributed to this book by providing us with their very best photos. Their names appear next to their respective works.
Our special thanks go to Tsuyoshi Ishiyama, who has once again aided us with data and - above all -photos from Japan. We would also like to thank Marko Stampehl and Uwe Jakob for checking the data and the lives of the ships, eliminating many errors from manuscript in the process. Our particilar thanks also go to Richard Seville for his additional help with the translation.
Last but not least, we would like to bring your attention to FERRIES, a magazine that will keep you up to date with the developments in the world of cruise and ferry shipping untill we compile the next edition of "The Great Passenger Ships of the World." Released in German four times a year, FERRIES can be ordered via Frank Heine, Schmiedestrasse 28, 24986 Mittelangeln, www.ferries-online.de.
Paderborn, Dammholm and Bunde, January 2016
Raoul Fiebig | Frank Heine | Frank Lose

Important notes for this new edition (Pages 9-10)
I. General comments
This book presents a chronological list of all of the 841 passenger ships over 10,000 GRT/GT in existance in the world today, including newbuilds. The entries are arranged according to the date of delivery by the builders, except in the case of sister ships, which are always listed immediately after the lead vessel. Appendices 1-4 provide simplified lists of passenger vessels that only see limited service or are no longer in service.
II. Historical data
All facts and figures presented in this book have been researched carefully. Nevertheless, we would like to apologize for any errors that may have crept in. The copy deadline was December 2015, which means that the technical data of ships delivered after this time - and that of vessels delivered shortly before - may be provisional. Ships' technical and historical information is always given in the following sequence.
1) Type
The individual types of propulsion are given before each ship's name as follows:
ms = motor ship
ts = turbine ship
2) Ship's name
Each ship's name is spelled in Latin letters, as seen on the hull. New ways of spelling names are increasingly encountered, e.g. "AIDAprima" instead of "AIDA Prima", or "SuperStar" instead of "Super Star". Even shipping companies are ocasionally inconsistent with names, which can lead to confusion. This problem also occurs with the translation of ship's names that are not written in Latin script. As accents or phonetic symbols are almost never given to the capital letters on the hull, they have also been omitted here.
3) IMO No.
In 1987, the International Maritime Organisation (IMO) introduced a unique designation for each ship in the form of an IMO number. This originally goes back to the register numbers issued in Lloyd's Register of Shipping. Each ship is allocated a unique IMO No., which does not change over the course of the vessel's life and is never issued twice. Some vessels in this book do not have an IMO number, as these were formerly warships (troop carriers), for which no number is issued. The IMO number of a few vessels could no longer be determined or, in the case of newbuilds, was not yet known.
4) Shipping company and home port
Where possible, reference is made here to the shipping company colours worn by the vessel. Additional notes are only given in exceptional cases. Legal addenda (e.g. AG or Ltd.) after company names are nearly always omitted. The company name may also be given in a distinct, abbreviated form. The home port indicated for each ship is not necessarily the location of the shipping company itself, but always refers to the national flag carried by the vessel.
5) Shipyard, place of construction; Yard No.
Such legal addenda as Pty. or GmbH do not appear alongside the company names here, either. In addition, company names are occasionally written in abbreviated form. The place of construction and - without exception - the shipyard's Yard No. are given after the shipyard's name.
6) Gross measurement
In 1994, all of the measurement systems that had hitherto been used were officially rendered invalid. These systems had made it possible to omit enormous capacities from ships' measurements. For example, the large vehicle decks of RoRo ferries were hardly ever included in the old calculations. Under the new rules, however, these ships saw their quoted gross tonnage increase by up to 50%! The difference can also be considerable for other passenger vessels. One example of this is the TROPICALE. Commissioned in 1981 with 22,929 GRT, she was defined as being 35,190 GT in 1994, without a conversion having taken place. For vessels commissioned with a GRT measurement, the GT measurement is indicated at the appropriate moment in the ship's life when the new value was first included in Lloyd's Register.
7) Deadweight
Deadweight is given as tdw (t = 1,000kg, occasionally also 1,016kg). In contract to other technical data, the change in deadweight is mentioned only in the case of major conversions. This serves as an additional indication of ship type in this book. A low tdw in relation to GT/GRT indicates a pure passenger ship or ferry, while a high tdw in relation to GT/GRT indicates a passenger/cargo ship or a cargo ferry.
8) Ship length
The overall length - the length of the hull at its longest point - is always given.
9) Beam
The moulded beam of the hull is indicated. Wherever the largest beam exceeds this measurement by more than 10 cm, this value is also given (in brackets).
10) Propulsion systems
The number and type of propulsion systems are indicated using clear abbreviations. The manufacturer comes after the semicolon. If the unit was not built in the manufacturer's main plant, the manufacturing company is given after the hyphen. Some ships incorporate combined propulsion systems, comprising e.g. diesel engines and gas turbines or various other turbines. These include e.g. COGES (Combined Gas Turbine and Steam Turbine Electric Drive system) or Integrated Electric Propulsion (IEP).
11) Engine output
The propulsive power of the engines in vessels commissioned before 1977 is given in bhp for motor ships or in shp for turbine ships. The international system for designating physical units became binding in 1977. According to this system, the output should be given in kilowatts (kW). These units are used in this book for all engines built from 1977 (1kW = 1.36 hp; 1 hp = 0.735 kW). As well as producing the energy needed to propel the ship, the generators driven by the main engines in diesel and turbo-erectric craft are also used to generate the considerable quantity of electricity required throughout the vessel. As a result, the performance of these main engines is significantly higher than is necessary for propulsion. In such cases, the propulsive power of the electric drive motors is indicated in addition to the main engines' overall performance.
12) Means of propulsion
Number of propellers or other means of propulsion, e.g. water jets or pod drivers, including Azipod pods from ABB, Mermaid and Aquamaster units from Rolls-Royce, SSP from Siemens/Schottel and pod drives from STN Atlas/Wartsila (designed as Dolphin).
13) Speed
The service speed is given in knots, one knot being defined as one nautical mile (1,852km) per hour. Top speeds are given afterwards in brackets (if known).
14) Passenger capacity
This is such a complex field that the creation of a useful, standardized system does not seem possible. The basic rule on cruise ships today is that two-bed cabins are the norm. In some cases, sofa or wall beds make additional occupancy possible (e.g. for children). This is given in brackets. The situation is more complicated regarding ferries. On short trips, no cabins or beds are necessary - only deck passengers are present. For longer night passages, cabins with different standards of comfort are offered alongside dormitories and/or Pullman seats. We have attempted to give as many details as possible in each case. Figures in brackets are maximum figures. In this book, the term "Pullman" covers not only airplane-style seats, but also the sleeping berths screened off by curtains on ferries.
15) Car, truck or rail wagon capacity
The car capacity shown is the total capacity on the special, low car decks. Because of the vehicles' different sizes - and because truck lanes and rail decks can be also be occupied by cars when necessay - this number should be seen as an approximate value. In addition, trucks, trailers and rail wagons come in various different lengths. By preference, the overall length of suitable queuing lanes with an adequate deck height is given for these vehicles. For trucks, this refers to lane metres of 3 m in width. The track length - i.e. the total usable length of track on board - is given for rail wagons.
16) Crew size
Unfortunately, crew size could not be determined for every ship. The relationship of this figure to the number of passengers provides a basis for assessing the standard of service on offer.
III. Historical data of ships
1) Lives of the ships
All key facts and figures relating to the life of each ship are given in the chronological accounts. These include renamings, changes of shipping company (cf. point II. 4, however), major conversion work, accidents with serious consequences and, of course, the final fate of the vessel.
2) Route
This book often only includes general route details for cruise ships, as these differ from season to season and even from trip to trip. Detailed information is given on the routes of ferries, although the occasional short charter or route change cannot be indicated. A diagonal slash separating two or more ports indicates that the service runs to or from either of these ports.
3) Other events worth mentioning
Increasing numbers of larger and larger ships with ever more complex technology result in more and more "standard problems". These include, for example, "teething troubles" with the introduction of such new technologies as pod drives; the infection of large numbers of passengers on board (e.g. food poisoning from salmonella); and slight collisions, groundings or similar mishaps. Although all of these can cause losses running into the millions due to repair costs and cancelled trips, only special cases are reported here.
Body Text (Pages 11-307)
The Ships in chronological sequence
Appendix 1: Cargo ferries and temporary passenger ships
Appendix 2: Former passenger ships
Appendix 3: Passenger ships under construction
Appendix 4: Passenger ships withdrawn since 2010
Register of Ships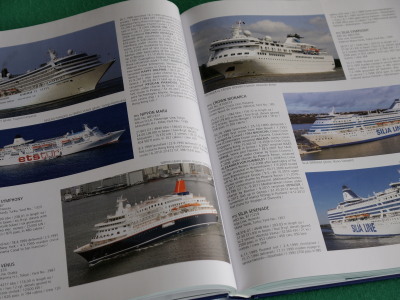 Information
About the Author
Frank Heine, born in 1965, is editor of the trade journal "Ferries". Frank Lose, born 1967, is editor in chief of "Ferries". The writing team is complemented by Raoul Fiebig - an experienced journalist and cruise expert. Together, the three authors are continuing the tradition that Arnold Kludas once began with his work on large passenger ships in the world.
Product Details
Hardcover: 307 pages
Publisher: Maximilian Verlag; 8 edition (March, 2016)
Language: English
ISBN-10: 3782212452
ISBN-13: 978-3782212458
Product Dimensions: 9.6 x 1 x 12.1 inches
Shipping Weight: 4.3 pounds
Buy "The Great Passenger Ships of the World" at Koehlers

Buy "The Great Passenger Ships of the World" at Amazon com. br (Brazil)

Buy "The Great Passenger Ships of the World" at Amazon ca (Canada)

Buy "The Great Passenger Ships of the World" at Amazon fr (France)

Buy "The Great Passenger Ships of the World" at Amazon de (Germany)

Buy "The Great Passenger Ships of the World" at Amazon in (India)

Buy "The Great Passenger Ships of the World" at Amazon it (Italy)

Buy "The Great Passenger Ships of the World" at Amazon co. jp (Japan)

Buy "The Great Passenger Ships of the World" at Amazon com. mx (Mexico)

Buy "The Great Passenger Ships of the World" at Amazon co. uk (United Kingdom)

Buy "The Great Passenger Ships of the World" at Amazon com (United States)