EXT ? WILDWOODS ? DAY
Subtitle "Several Months Later."
Animals are moving in the nature of the wildwoods. JOSTER wearing wild bears and dirty shirts is chasing them while he is being excited.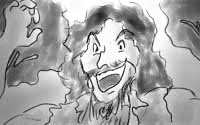 JOHN
(Voice Over)
"After he said good bye to Ner, he started resarching animals
as if he remembers his object to come here. I know he is
doning that to forget Ner."
JOSTER is crawling to be closer to wolves. The wolves find him but are not afraid and sniffs him.
JOHN
(V.O.)
"It is interesting that the animals don't have cautious against
him although they have it against human being. Does it mean
the nature here accepts him?"
JOHN opens a thick book.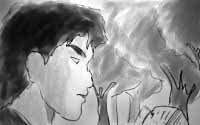 JOHN
(V.O.)
"Eevrything is OK in our lives except I left my bible in Buletin."
JOHN is reading a Japanese dictionary.
JOHN
(V.O)
"So, I've started learning Japanese again. It is fun though.
But…"
JOSTER sharpens a spear.
JOHN
(V.O.)
"Recently I found that Joster is getting wild."
JOSTER is running the jungle while he is shouting and screaming as if he is an animal. He is eating a burned pig at night.
JOHN
(V.O.)
"He does't listen my words that much today."
EXT ? LAKE SHORE ? DAY
JOHN is standing and staring at the lake alone. Suddenly, a noise is coming from his behind. JOHN is surprised and turns around. JOSTER, who looks like a primitive, appears.
JOHN
"Oh, Joster."
JOSTER smiles at JOHN and walks toward the lake.
JOHN
"Where are you going?"
JOSTER
"Catch the fishes."
JOSTER answers by awkward English. JOHN shows sadness on his face.
JOHN
(V.O.)
"It is the time to finish our journey…"
EXT ? CAVE ? NIGHT
JOSTER and JOHN sits around a fire. JOSTER is sharpening his spear.
JOHN
"Joster?"
JOSTER looks at JOHN.
JOHN
"I think we have to go home."
JOSTER
"…Why?"
JOHN
"I have to go back to the church in England and report that
I propagated Christianity here. And you have something to

do as a zoologist, right?"

 
JOSTER
"As a zoologist…"
JOSTER starts thinking.
JOHN
"Joster…"
JOSTER stands up suddenly and goes out of the cave. JOHN can do nothing but stares at his leaving.
EXT ? CLIFF ? NIGHT
In the rain, JOSTER looks up the cliff from the place JOHN and he started climbing before.
JOSTER
"Why I came here…?"
JOSTER whispers and finds a wolf looking down him from the top of the cliff. JOSTER stares at the wolf as if he is possessed by something. The wof stares at JOSTER, too. The sound of rain is surround them…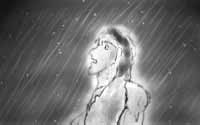 TO BE CONTINUED!!!
---