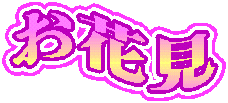 << O-hanami >>
Flower-viewing
"Ohanami" means to go and see the cherry blossoms. It's difference according to locality, but usually cherry trees come into full bloom at the beginning of April.
"Ohanami" has been a Japanese custom for aristocrats since the 7th century, and they used to enjoy looking at the cherry blossoms and writing poems all day long. Today, parks are crowded with people who have a good time under the cherry blossoms, eating and drinking. We can enjoy viewing all flowers here and there.
Why is "Ohanami" done under the cherry blossoms?
Old people believed in natural powers, and natural gods. In winter, branches look like dead branches. When cherry blossoms begin coming out, they are in full bloom in a few days. It looks like spouting out energy that has been kept during winter. People felt that natural energy flowed out from cherry blossoms, and also that cherry blossoms have medical effects. To be under the cherry blossoms means that we can receive energy, power and medical effects. These are some of the good things of "Ohanami", plus it's enjoyable.
But nowadays most people don't know about this history. "Ohanami" is just an opportunity to enjoy having a party. It's an especially wonderful sight to see cherry blossoms at night.